Modern Outfitters Halloween Bash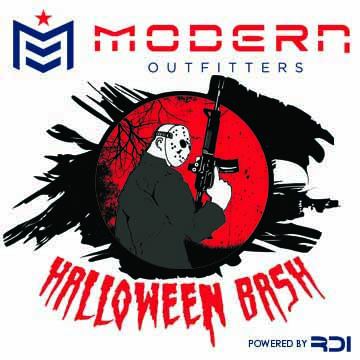 Date: October 23, 2021
Time: 1500-2300
Individual Shoot: $35.00
Team Shoot: $300.00
Itinerary:
1500-1800 Open Range Bay Shoots and festivities
1800-1900 Costume Contests
1930-2200 Team Contest
2200-0000 Awards and Music
Best Costume:
1st Place $100.00
2nd Place $75.00
3rd Place $50.00
Best Team Costume: $200.00
INDIVIDUAL AND TEAM REGISTRATION AVAILABLE
Individual Shoot:
Cost:$35.00
Individuals will be allowed to compete in a one bay and a two bay competition. This is a run what you brung, pistol and carbine comp. Each shooter will run through two stages; one stage will be pistol, the second carbine.
Ammo: Pistol – 30 rounds
Carbine – 30 rounds
Each shoot will have a 1st-3rd place winner announced at the end of the team competition. Exact layout of the stage will be conducted prior to commencement of the shoot.
Team Shoot:
Team Cost: $300.00
Team Registration Limit: 15 teams
The team will be comprised of four team members with each team member armed with one of the following: A revolver, a semi auto pistol, a carbine and a shotgun.
This is a run what you 
brung
 event. 
The team will begin as one group and will engage targets for their respective
 weapon system. The final stage layout will be explained the day of the shoot and a walk through conducted. Teams will be lined up in accordance to a number draw 
conducted prior to the competition. Team captains must be designated to better communicate updates and conduct briefs.
Ammo requirement (minimums):
Revolver: 

32 rounds

Semi-Auto:

60 rounds

Carbine:

180 rounds

Shotgun: 

10 rounds slug/25 rounds birdshot